If you own an ecommerce business, or are a third party logistics partner you'll appreciate the importance of accurate and speedy order fulfilment. As a bare minimum, customers expect their orders to be delivered on time, and contain the items they ordered - in short, no room for mistakes. 
Many businesses experience the challenges of ecommerce order fulfilment, that can all contribute to mistakes such as inaccurate orders. Sending an incorrect item is a common mistake to make, as all it takes is a small error at any point in the pick, pack, and ship process. However if it is a frequent error, it can prove very costly to an ecommerce business with shipping and handling charges in mind, and also risks the chance of customer loyalty and repeat sales. 
In this article, we will explore the order fulfilment process for ecommerce, as well as the common challenges and how software can help you to overcome them.
What is Order Fulfilment in Ecommerce?
Order fulfilment is everything involved in the process between a customer placing an order, through to them receiving it. It's important to balance the speed at which an order is picked, packed and shipped, with accuracy to ensure the right items are selected and delivered.
If you are striving to enhance customer satisfaction, then it's pivotal to focus on your fulfilment processes to ensure your customer's post-purchase experience is as seamless as possible. 
The Ecommerce Order Fulfilment Process
There are seven key steps in the order fulfilment process:
Receiving inventory: your inventory or stock is sent to a warehouse or fulfilment centre.
Warehousing and storage: inventory and stock is stored ready to be picked and packed for when new orders to come in.
Order picking: the items of each order are collected.
Order packing: the items of each order are assembled in a parcel.
Shipping: the parcel is despatched to the customer via a courier or multi carrier.
Delivery: the parcel is delivered to the customer via a courier or multi carrier.
Returns: products are returned to the fulfilment centre for processing.
8 Challenges of Ecommerce Order Fulfilment
So, what are the most common ecommerce challenges associated with order fulfilment, and how can they be addressed?
In short, implementing a cloud-based order management system (OMS) and automating all processes associated with picking, packing and shipping an order is the best way to avoid costly errors and to be as efficient as possible. 
We've put together some of the most common challenges faced in order fulfilment and how you can solve them through the use of software and it's automation capabilities.
1. Keeping track of orders
The task of checking for logging into multiple platforms for all sales channels is time consuming and unreliable.
Opting to invest in an order management system with pre-built integrations will allow you to connect with all your sales channels (or your client's channels) from one centralised platform. 
It is no longer feasible to manually check for orders coming in at regular intervals.
Order management software will ensure users are automatically alerted when a new order comes in, and the information of the order will automatically be sent to warehouse operatives to pick and pack the order.
Stock levels will also be synced, as an OMS pushes out stock levels to all your ecommerce channels at regular intervals. This will ensure your stock and inventory are synced with your online marketplaces, saving you valuable time and ultimately improving customer experience by avoiding overselling items.
One of Mintsoft's OMS customers say:
"We wouldn't have been able to get where we are now without Mintsoft. There's no way we could have carried on pulling orders manually or making as many labels as we were whilst remaining cost effective to our clients. We rely on things being automated now."
2. Managing stock availability
Managing stock availability and backorders by manually looking through order lists can be time consuming and prone to errors; however, making the most of your stock is crucial to maintaining good customer relations. Order management software removes the need to look through multiple lists, by providing a centralised, digital location with information about all orders, from different sales channels.
This allows you to drill down into specific information regarding inventory levels and orders, giving you the ability to prioritise back ordered items to be handled first, or to isolate and delay orders should stock not be available. Having a smoother back order process makes it easier to control and manage fulfilment, so your customers get the products they ordered, on time, every time.
3. Pick accuracy and stock location
Having an unorganised warehouse can cause many problems; from your warehouse staff being unable to locate items or incorrect order picking to lost orders and damaged reputation. 
Sometimes a more complex layout is needed to support substantial warehouse operations, but this can be supported by the management of increased pallet locations, racking and inventory locations using barcode scanning software. By using mobile barcode scanning to improve stock checks, inventory putaway and picking accuracy, your warehouse workers will be more efficient and pick the right stock, every time.  
Traceability of inventory using product usage and stock flow reports also makes it easier to track movement of stock around the warehouse and order allocations. Warehouse workers need to know exactly what stock is available, and where it is being stored. If they don't have this information to hand, you're at risk of experiencing long pick and dispatch times. 
A Mintsoft user says:
"Our previous system was clunky, slow, and laborious when carrying out tasks such as transferring stock, but with Mintsoft tasks like this can be done in a fraction of the time. By automating tasks such as reporting and inventory tracking, we now spend a lot less time on admin and have also reduced the risk of information getting lost, or duplicating workload."
4. Choosing cost effective couriers
Selecting the most cost effective and efficient courier is pivotal where customer experience is concerned, as fast and cost effective shipping options continues to be the main differentiating factor for the top ecommerce brands. This is where a multi-carrier strategy and automated software comes into play.
Having access to choice of carriers, rather than relying on a sole courier is beneficial to your customers as well as your business. With that being said, it's often difficult to know which is the most cost-effective courier to use based on the weight and location of the order. Investing in a cloud based OMS with pre-built courier and multi-carrier API integration capabilities will allow you to simplify and speed up delivery time by automatically selecting the best courier for the job based on smart rules you set up. 
Some OMS software has the ability to automatically determine which courier service to apply to orders based on a number of different methods. These are called smart shipping rules and can include the parcel weight, order value and destination. You can also set more specific product rules so that specific products can be sent by different courier services for specialist needs - e.g. fragile goods or dangerous goods. 
Once set up, the system will work its way through the following list in order to determine which courier service to apply to an order.
Many online retailers and third party fulfilment partners face administrative errors when it comes to shipping products, but an OMS such as Mintsoft, will automatically obtain tracking information from your chosen couriers, so it's at your fingertips when you need it. 
All the information and data that you need is available in a centralised platform, making it easy to track any order, with any courier in one place. Just search by customer name, order number or post code to find tracking events on the direct couriers website. All connected channels are automatically updated with shipment tracking information at regular intervals – keeping customers up-to-date with their delivery information.
If you're shipping offshore and can't remember if a different service needs to be used for Northern Ireland for example, an order management system can also check against the delivery postcode and automatically switch to a more suitable courier. This avoids return shipments by increasing the accuracy of delivery documentation. Surcharge shipping zones are also in place to manage offshore locations.
An ecommerce Expert at Mintsoft says:
 

Although it might take up more time to research and identify the best couriers to work with and set up relevant integrations, you'll thank yourself in the long term by ensuring that items turn up on time, in condition, and with a delivery price that your business (and customers) can afford. 

 

 
5. Shipping internationally following Brexit
The additional regulations imposed for shipping goods to and from the EU post Brexit have added more to be considered. If you're involved in selling and fulfilling business to consumer (B2C) sales between the UK and remaining EU countries, you'll be aware that the paperwork involved in shipping internationally is intensive.
The introduction of IOSS has simplified the process for selling goods to the EU, allowing multichannel retailers to continue to expand their international operations further.
Whether you're an independent multichannel retailer or 3PL fulfilment organisation who supports multiple multichannel B2C retailers, you'll be pleased to know that an OMS helps when it comes to saving time and increasing accuracy by automatically generating commercial invoices when required; which can of course take into account the correct VAT rate.
6. Stock receiving and stock checks
Any multi-channel seller or 3PL will know that checking stock is a time-consuming and often inaccurate process if done manually. As mentioned earlier in this article, the process of managing inventory can be sped up and be more accurate with the aid of a mobile barcode inventory system.
When used in relation to stock receiving and stock checks, an additional benefit of mobile barcode scanning is being able to scan stock in and out of locations, which maintains traceability and reduces errors in comparison to doing this process manually. 
Mobile barcode scanning also makes it easier to manage the risk of orphaned/displaced products in a busy warehouse. A product location function will allow a barcode to be scanned, and all known locations for that product shown on screen, allowing warehouse operatives to find misplaced items within a warehouse.  
7. Managing multiple warehouse sites
Without an OMS in place, managing stock and transfers between multiple sites involves logging into different WMS systems for each site. The good news is that software exists to make selling across multiple sites easy.
The trick is syncing all of your inventory across all of these channels. With an OMS software solution such as Mintsoft, you will be able to integrate with multiple WMS systems, as well as sales channels and inventory systems, allowing you to see the data you need, in one place. 
As the system is cloud-based, it also means users can log on from anywhere, allowing you to check stock from different sites, no matter where it's being stored.
Checking and efficiently putting stock and inventory away across multiple sites is also very challenging, but an OMS has the ability to create an Advanced Shipping Notification (ASN), within the platform. Creating ASNs allows you and your warehouse to keep track of expected deliveries coming in.
8. Batch creation and picking 
Large volume businesses often need to create lots of batches each day, which is very time consuming and often requires an additional member(s) of staff to run the jobs. The process of retrieving inventory for multiple customer orders at once, rather than picking items one at a time is also known as batch picking, cluster picking, or fulfilment batching.
Opting for an order management system with a batch scheduler module means that 'batch-able' orders that contain the same items and quantities can automatically be grouped. This not only results in faster picking rates, but requires less foot travel for warehouse operatives, as an OMS can generate batch pick lists for each picker to retrieve items in the most efficient way by following an optimised route.
Benefits of Overcoming Order Fulfilment Challenges
Removing and overcoming the common pains and challenges of order fulfilment will in turn allow you to see an increase in productivity.  
It is common practice to set KPIs to outline success and to understand how your business is performing, you have to know more than just how many products you're selling.
KPIs should be chosen and monitored depending on your unique business goals, but should ideally cover customer, operations, and warehouse metrics. Some of the most important warehouse and fulfilment KPIs that you can track with order fulfilment and warehouse operations in mind are:
Order volumes
Order processing times 
Stock holding and availability
Goods in accuracy 
Client revenue
Popular stock lines
The important metrics may differ depending on your position in the business; Directors and management may wish to have an overview of individual clients or product lines, whilst sales managers may be more interested in using productivity metrics to help win new clients and accurately size and quote new opportunities.
Many OMS systems will produce the data required to measure success against your chosen KPIs. As an example, Mintsoft's reporting dashboard allows users to have a holistic view of important data and metrics with individual dashboards, as shown below.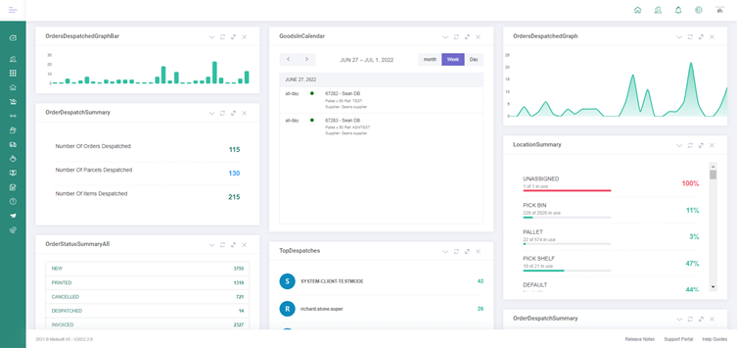 How Mintsoft can help
At Mintsoft, we can help streamline your ecommerce order fulfilment processes to overcome any of the challenges we have mentioned in this article.
With Mintsoft's ecommerce management software you can automate time consuming tasks, allowing you to focus more time on other areas of your business. To find out how best to improve fulfilment and order management in advance of peak time ecommerce sales, please book a personalised demo with a product expert.
Updated on: 30/03/2023