As the e-commerce boom continues to grow, meeting customer demand and exceeding expectations when it comes to fulfilment and shipping time is an important aspect for both online retailers and logistics partners. If you are not aware of the benefits of systemised order management processes enabled by technology then you may be in for a pleasant surprise. Despite consumers continuing to shop online, as footfall on high streets begins to pick up, consumers are once again realising the benefits of instore shopping, with just 53% of consumers saying they prefer shopping online. So, streamlining processes and getting orders out the door as fast as possible is pivotal to remaining competitive both in the offline and online marketplace.  
Receiving, tracking, and fulfilling customer orders is a time-consuming process, and is often prone to errors, which not only costs businesses time, but money as well. Implementing an order management system (OMS) can help to streamline processes by automating many back-office tasks which are often unavoidable.   
What is order management?  
Order management is the process that happens immediately after a customer places an order, including everything from locating and picking the item in the warehouse, through to packing and shipping the product to the final mile. The process also includes capturing customer data, printing shipping labels, order routing, returns and in some cases, invoicing and payment of orders. 
Whether you distribute 50 or 50,000 orders a month for your own business or on behalf of your clients, it is important to ensure that your process is as efficient as possible. A streamlined process not only allows you to get more orders out the door, but will also help to improve customer experiences, which is where order management software can help.
You can learn more about order management systems and how to choose one in our comprehensive guide.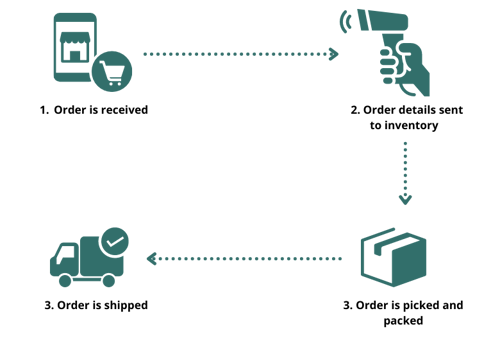 What are the key benefits and advantages of an order management system?
An efficient and reliable order management solution is necessary to perform at the level that the market now expects and pivotal for staying ahead of competition. Implementing an OMS will offer many benefits to your business, allowing you to stay ahead of competition and keep up with the demands of an ever-increasing digital world. Take a look at our top 10 benefits of an order management system:
1. Keep inventory costs low
One of the benefits of implementing an OMS is the ability to take control of inventory management by simplifying processes with automation. Mintsoft allows users to easily move stock from location to location with simple scanning steps for replenishment or putaway.  
This process is done by using in-location stock movements by setting rules to automate what happens to orders during packing, based on triggers like delivery option selected, value and weight, which removes the need for manual processes and reduces time spent on such tasks.  
E-commerce and multichannel inventory management software also gives users automated insights into product information, so you know the best place to store inventory, and how to handle certain items stock (fragile, flammable etc.). Inventory tracking software also allows you to make data driven insights by automatically monitoring stock levels and sales data for each item and helps to improve the efficiency of adding new items to inventory, tracking sales, and updating stock levels.
"Inventory is usually the biggest cost for a product business, so it's critical that your outlay on stock is kept as low as possible". 

 

"A good order management system helps you do that by giving you a unified view of what stock is going where – and deducting it in real time from your inventory records as you make sales.  

 

"It takes the guesswork out of reordering at the right time. It means you don't accidentally sell the same stock twice, through different channels. And it lets you get smart about shifting your excess stock with promotions before it turns into a write-off." 

Inventory Management expert Josh Lunn of Unleashed Software

 
2. Get orders out quicker - and more accurately
Mintsoft removes the need to manually monitor your online shops for orders coming in by providing updates in real time as orders are received - all the way through to shipments being despatched within the platform. 

Automated order fulfillment systems like Mintsoft also allow users to easily track the progress of outstanding orders and search order history if information about a previous or completed order is needed. And as the system is cloud-based and removes the need for hosting capabilities, you can receive this information from anywhere, at any time. 
3. Connect all your sales channels from a centralised platform
Perhaps one of the most important features of an OMS is API integration capabilities. Integrations help to trim down complicated processes and automate time consuming tasks and entire workflows, helping to save time and remove the risk of human error.  

Mintsoft has a wide range of integrations to connect to, including marketplaces, shopping carts, inventory systems, warehouse management systems, accounting systems and couriers. By integrating all your channels and platforms used to power your business, the need to log into multiple platforms is removed. This results in more secure and faster data transfer – putting both yours and your customer's mind at ease.  Managing your orders from one centralised platform also means that accuracy and speed of orders will be enhanced – saving both time and money in the long run.
4. Streamlined and better organised warehouse operations 
Mintsoft also acts as a cloud based warehouse management software (WMS), allowing users to gain a complete overview of your warehouse, inventory and courier relationships from one easy-to-use platform - all accessible anywhere, anytime with real time updates on orders, inventory, and shipments.
Mintsoft's core WMS features provide the option for ultimate efficiency with features such as: 
Advanced Location Management 
Warehouse Capacity Map 
Multi Warehouse Support 
Mobile Barcode Scanning App 
Detailed Inventory Tracking 
5. Remove the need for paperwork
Switching to a cloud-based system not only means that the platform can be accessed from anywhere, but removes the need for hosting capabilities and paperwork. 
Digitisation of documents has many benefits; from saving time and space, to making the transfer of information easier. Using a cloud-based order management system as opposed to a paper system will also boost security. Physical documents are prone to getting lost, are difficult to track and easily destroyed without employees noticing. 
In addition to reducing the amount spent on paper, printers, ink, postage and office space for files, the savings on employee time are also especially valuable in regard to audits and repetitive, high-volume tasks.  
6. Customised reporting and documents
Mintsoft allows users to generate comprehensive reports for sales data across all e-commerce channels. Using flexible formats, users can easily view information within the system, or if preferred use a CSV with an easy-to-use custom export data builder. 
Bring confidence to your business with powerful reporting tools that offer a custom reporting feature to allow bespoke reports to be made in line with business requirements - if only specific fields are required for sending over to clients, for example. Custom reports can be scheduled and sent out to specific users, removing the lengthy process of sending data and freeing up more time for you to spend on other areas of the business. 
7. Avoid stockouts by keeping sales channels updated  
Keeping on top of inventory management can be a challenging task, and if not done right can lead to unhappy customers, stressed employees, and a dent in profits. An integrated OMS will take care of your stock levels by integrating with your e-commerce channels, so that each of your sales channels is always up to date, meaning you'll remove the risk of overselling items.  

Mintsoft automatically pushes out stock levels to all your e-commerce channels at regular intervals making sure inventory is synced - saving you valuable time and improving customer experience. The platform also integrates with many marketplaces and shopping carts, so if you rely on various channels to support your e-commerce business, you can manage it all from one platform.
8. Straight forward invoicing for clients
The most time-consuming aspect of manual 3PL and warehouse invoicing is billing clients for various costs. Mintsoft provides clear and transparent client invoicing when it comes to charging for fulfilment costs, and breaks down further into the associated areas within this; from shipping costs tpicko , pack and storage charging models. This allows logistics and fulfilment partners  to improve efficiency, whilst removing the risk of duplicated data entry. 
Mintsoft also integrates with various accounting systems, allowing you to seamlessly import and export invoices and improve efficiency by removing the risk of duplicated data entry. 
9. Make data driven decisions
Using our cloud-based order management system will drastically reduce errors and help to make informed data driven decisions to deliver a more responsive and consistent service by automating unavoidable admin tasks. 
Having complete visibility over your business information from one centralised platform makes knowing where and what you are selling easier and gives deeper insights for forecasting and demand planning ensuring you always have efficient stock levels.  
10. Simplify complex orders with advanced rules
With Mintsoft, complex order requirements are made easy using the powerful order rules engine. Through the dashboard, you can perform advanced actions on orders when they are imported based on certain conditions. Our helpful order rules allow you to simplify the process of fulfilling compels orders by carrying out specific tasks such as: 
Creating personalised gift messaging  
Uploading and printing a hazardous goods label and/or ship the order using a specialist hazardous courier 
Holding orders for review from a specific customer of postcode  
Automatically adding a packaging item/box of a specific size to correctly pack larger orders  
Moving orders to another geographic region based on country or zone of order 
Unsure what to look for when choosing which Order Management System to opt for? Read our blog on How to choose the right ecommerce order management software system (OMS). Read testimonials from customers and partners using Mintsoft or as always, feel free to contact us with any questions you might have.