The ecommerce order management system with 150+

integrations



67+
Online shopping platform integrations
400+
3PL and Fulfilment customers
200+
Online retail customers
What're the benefits of inventory management for ecommerce?



Streamlined order management
Seamlessly manage high volume orders using the bulk upload and update features. You can also merge orders for the same customer within the platform.
Automated order tracking
Track order statuses once they have been despatched and are with the selected courier and easily calculate the required despatch date of orders.
Hassle free returns management 
Mintsoft also has the functionality to support the returns process, with features such as auto exchange on return and customisable return reasons.
Avoid overselling products 
Mintsoft's ecommerce order management system manages your stock levels, so that each of your sales channels stays up to date, meaning you'll remove the risk of overselling items. 
By pushing out stock levels to all your ecommerce channels at regular intervals your stock and inventory is synced, saving you valuable time and ultimately improving customer experience.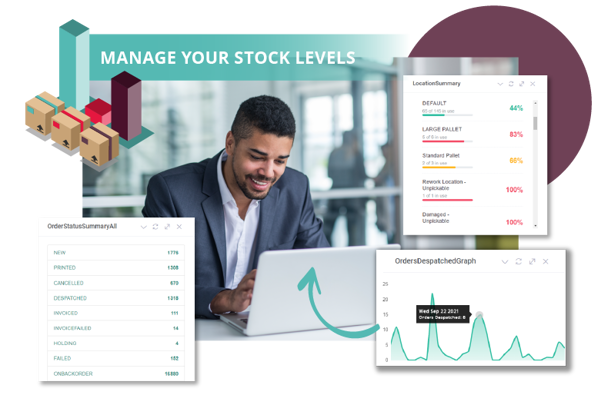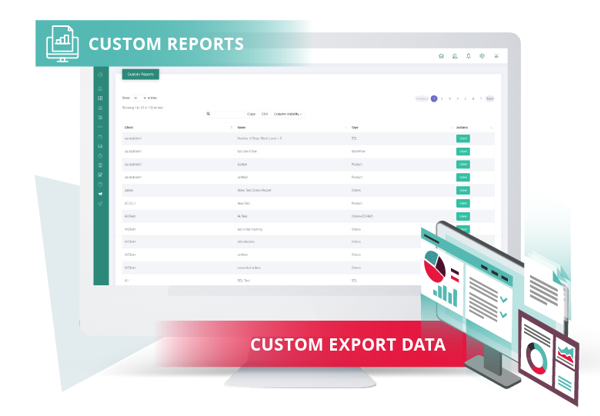 Create customised and
branded reports 
Generate comprehensive reports for your sales data across all ecommerce channels with our ecommerce product management software. Using flexible formats, users can easily view information within the ecommerce management system, or if preferred, use a CSV with an easy-to-use custom export data builder.

The custom reporting feature within Mintsoft's ecommerce order management system allows bespoke reports to be made in line with business requirements. For example, if only specific fields are required. Custom reports can be scheduled and sent out to specific users, removing the lengthy process of sending data, and freeing up time for you to spend on more important things.
Maintain accurate stock levels
With our ecommerce inventory management system, you can create subscription rules for easy management of products and product bundles. Mintsoft has a variety of combinations for subscriptions, allowing you to tailor it to your business needs. From picking, straight through to shipping, our order management system will be there to support you. Automating workflows such as subscriptions, ultimately reducing costs and streamlining staff efficiency.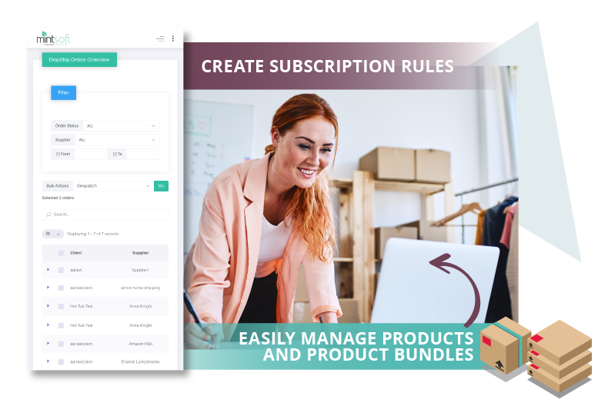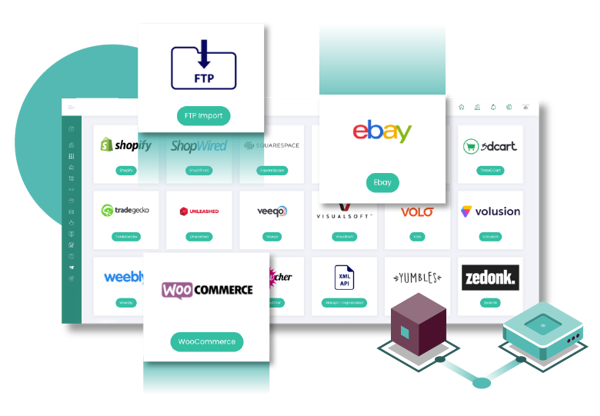 Mintsoft's ecommerce order management system integrated with our many WMS software integrations, giving your business the power to manage your online shops and shipping needs across multiple channels, couriers and multi carrier shipping from a single platform.  
We aim to give you access to as many sales channels and courier services as possible to provide you complete flexibility.
Our API integrations allow you to scale up and work with new partners as and when needed.
Explore our range of integrations
Easily list your products
With our multichannel listings capability you can quickly and easily list and sell your products on the biggest online marketplaces, as well as bulk update your listings from a single source of truth.
Find out about our Multichannel Listing Software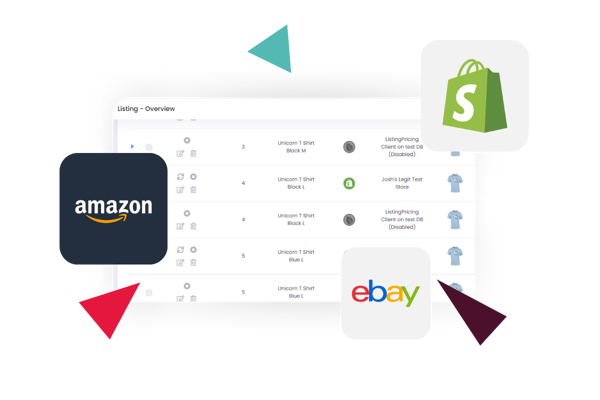 Key ecommerce management software features:
Product Features
✓ Product warehouse allocations - if stock is available across multiple warehouses you can assign a priority against each warehouse for stock allocation ✓ Export products to CSV ✓ Low stock alerts - set low stock alerts against each product to get notified when stock levels reach a set amount ✓ Upload products in bulk ✓ Update products in bulk ✓ Import product information from supported online sales channels
Fulfilment Features
✓ Alternate SKU mapping across channels ✓ Add packaging and packing instructions to products ✓ Add linked items or additional products to specific products ✓ Subscription products - create subscription rules for products with length and frequency of the subscription ✓ Product Bundles - create 1 SKU formed of multiple other SKUs (when bundle SKU is ordered it will deduct relevant qty of component SKUs from stock levels
Barcode & Data Features
✓ Master carton barcodes - scan a carton barcode once to book larger quantity of stock ✓ Stock flow data report - view transactions relating to a product in, out or stock allocation ✓ Audit trail of product attributes - changes made to main product attributes are logged and displayed under product history tab ✓ Product barcode generation / printing ✓ Dropship products - set products up as dropship products to filter off of orders and automatically send an email to supplier for fulfilling of order
What our customers say 



"There were a lot of features that attracted us to Mintsoft, but the main draw for us was the amount of shopping cart integrations that the system works with. It was a strong and impressive portfolio in comparison to the other systems we've previously used or were looking at implementing."
Neil Burden, Owner at Haul & Store Ltd.
Frequently Asked Questions 
Get in touch today if you have more questions about our ecommerce management software and its features.

E-commerce management software allows you to reduce costs and save time when it comes to carrying out the fulfilment process. Your E-commerce management software should also allow you to automate tasks such as inventory sync, dropshipping and return management and ultimately allows you to keep on top of inventory and avoid overselling products. 
As an e-commerce software solution, Mintsoft allows users to streamline order management and the fulfilment process, automate order tracking and enhance the returns management process. The platform also allows your to build customised and branded reports for your sales data freeing up more time for you to spend on other areas of the business.
Check out Mintsoft's additional features