Choosing the best order management system for you
Whether you're looking to update your existing system or implementing one for the first time, it's important to consider that not all retail order management software is created equal. With significant evolution in the industry over recent years, there are more solutions available on the market than ever before, and knowing where to start can be overwhelming.
We've put together this guide on how to choose the right ecommerce order management software for your business, helping you to narrow your options and understand the most important considerations for your specific use case.
In this guide, we'll be looking at:
What is an ecommerce order management system?
Where to start when choosing an ecommerce order management system
10 key factors to consider when choosing retail order management software
Retail order management software considerations for 3PLs
Benefits of an OMS
Red flags to watch out for
Grow your business with Mintsoft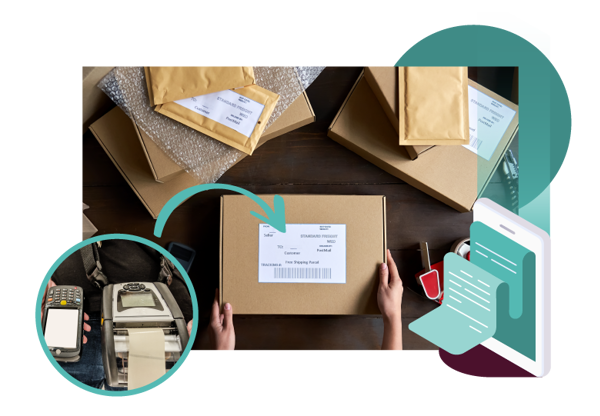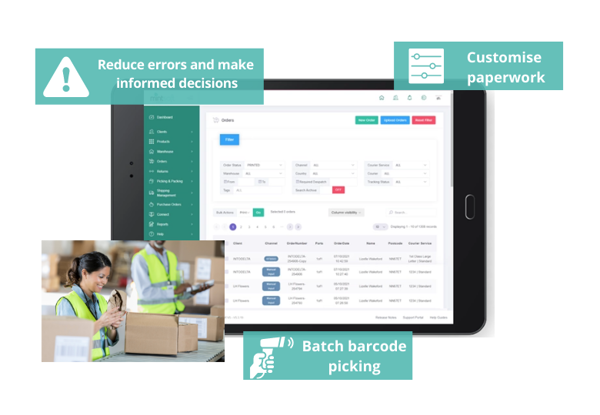 What is an ecommerce order management system?
An ecommerce order management system, also known as an ecommerce OMS, is a piece of software that tracks online orders from initial purchase through to final delivery.
Choosing the right OMS helps to streamline the entire retail order management process, making sure everything runs smoothly. As well as providing a great user experience that keeps customers informed about their order every step of the way, it helps you to keep track of stock, monitor the order fulfilment process and highlight any areas of concern that may require improvement.
Where to start when choosing an ecommerce order management system
There are many different OMS options available for retailers on the market. Some solutions may be more suitable for how your business operates than others, so it's important to do a little research to find a system that meets your needs. To help you get started, we've put together some initial considerations:

Set your budget
Budget is one of the most important factors when it comes to choosing any kind of software, hardware or equipment for your business. Focusing on the price first of all will help you to narrow down the many ecommerce order management systems on the market. However, bear in mind that the benefits you gain from an efficient, automated system can yield great savings over time, making the initial investment well worth it in the long run. Choose well and any up-front costs could be recouped in time and resources in a matter of months.
Create a list of must-haves
When choosing the right OMS for your business, you need to consider what you actually need it to do. Create a list of essential functionality that you can't compromise on, and use this as a tool to shortlist systems. Anything that doesn't cover these basic requirements won't be beneficial to your company, no matter how positive its reviews or reputation. As well as knowing what you need, it's also important to remember that not all features offered by ecommerce order management systems will be necessary for how your business operates. It's easy to get caught up in the marketing pitch and say yes to loads of amazing features, but this can mean wasting money on functionality you'll never use.
Consider the future
Purchasing a solution that works for how your business operates at the moment is fine, but this may limit your ability to expand in the future. As well as incurring additional costs switching to another new OMS, the time and resources required to set up, integrate and learn a new system can have an impact on your bottom line. When choosing an ecommerce order management solution, you need to consider where your business will be in one, five or ten years' time. If the system isn't able to keep up with your planned expansion, it's not worth investing in now. Look for a flexible OMS that offers integration with other systems, service providers and supply chain technology.
10 key factors to consider when choosing retail order management software
Now that you've got an idea of your budget, what you need from your OMS, and how these needs may change in the future, it's time to look at the most important functions of an ecommerce order management system.
1: Order tracking
It goes without saying that order tracking is the most important basic function of an order management system, so this should be the first factor you consider when weighing up your options.
When the warehouse picks, packs, and ships products, your OMS should also send an order status update to the customer. It should also be able to tell them when to expect their purchase based on their shipping address, and order information. Both you and the customer can then track the package as it travels to its destination.
2: Shipping management
Using multiple couriers to keep costs low or offer a range of shipping options provides a great service for customers but can be hard to manage once your business starts receiving a lot of orders.
Your OMS should allow you to integrate as many different shipping services as you need to provide the best experience for your customers. With an automated system, you can set rules based on product weight, price and delivery region, and the platform will automatically select the best courier choice using this information.
3: Inventory management
Many retail order management systems can predict how much stock you'll need to avoid over-ordering or over-selling. This can be especially important during peak times for your industry.
An OMS that connects to your inventory gives you more visibility and complete control over managing your stock levels. By automatically syncing your stock levels, you can ensure that all of your sales channels remain up to date. This is especially important if you sell across multiple channels, such as on your own website, in retail stores and through a third party like Not On The High Street.
You can learn more about selling on Not On The High Street in our blog post.
4: Integration across multiple systems
An essential function of an ecommerce management system is its ability to integrate across company infrastructure, service providers, and supply chain technology.
Making sure your OMS is able to interface with multiple internal and external systems will make your order management process as seamless and automated as possible. For the best outcome, check that the OMS can integrate with your accounting software, warehousing systems, couriers, shopping carts and more.
5: Multichannel management
Some solutions support multiple marketplaces, such as WooCommerce, Magento and Shopify, all in the same place.
This allows you streamline the fulfilment process and minimise errors by managing all of your sales channels, orders, stock levels and customer data through a single interface. As well as saving time by avoiding the need to log into and out of different platforms, it also gives you the opportunity to sell through more channels with minimal additional admin.
6: Global reach
We live in an increasingly globalised world, with brands of all sizes taking overseas orders on a daily basis. The right OMS can help you to do this smoothly and efficiently, allowing you to reach more customers while providing a great service every step of the way.
If you already ship internationally, or you're looking to expand into a global market, make sure your retail order management software can facilitate cross-border ecommerce orders and payments from any currency. This will not only expand your brand's retail footprint but also allows you to learn and grow in new markets.
7: Dropshipping capabilities
The best order management systems have the ability to set up lists of dropship products and their suppliers, automatically splitting out products from orders you don't fulfil yourself. This means that you can easily see which orders you're responsible for, and which have been sent to the respective supplier for fulfilment.
If you don't use dropshipping, you don't need to worry about this functionality in your chosen software. However, if the hassle of tracking separate orders is something that has put you off dropshipping, it's nice to know that an OMS can handle this for you.
8: Brand management
One of the most important benefits of an ecommerce order management system is its positive effect on the customer experience.
Look for the ability to create and edit shipping labels and dispatch notes, allowing you to add your own branding and company information so customers know exactly who their delivery is from, and how to contact you should they have any issues. The option to add or remove certain information from delivery notes is also useful. One example is offering the option to remove price information for those purchasing a gift.
9: Cloud-based server
Cloud-based ecommerce order management systems make it possible to manage the whole dispatch process in one place, from anywhere. This also means that customers can check their order status at any time, providing a better user experience.
Cloud-based solutions are easy to scale, highly configurable and offer fewer delays than single-server solutions. This reduces downtime and allows multiple employees to log on from anywhere, which is ideal for businesses where teams and departments may be based in different parts of the world.
10: Value-added services
Your retail order management software should be flexible enough to adapt to your needs, and support your business as it grows.
Ensure that it has the ability to be customised or reconfigured to your specific needs, and ask whether the platform is continually adding new feature functionality. Some vendors offer implementation support, training and ongoing maintenance, all of which are useful extras to help you get the most out of your OMS.
Retail order management software considerations for 3PLs
Following an uptick during the height of COVID-19, online sales have seen a slight decline. However, they still remain above pre-pandemic levels, with 25.3% of retail sales in the UK taking place online in January 2022. This means that it's still well worth branching out into online shopping, particularly with third-party logistics companies making ecommerce accessible to companies of all sizes. For third-party logistics companies (3PLs), there are a few additional considerations that you may need to take into account when choosing a suitable ecommerce order management solution that meets your needs, as well as the needs of your clients and their customers.

Supporting multiple industries
As a 3PL provider, you may be required to support a variety of different industries depending on who your ecommerce partners are. Choosing an OMS that offers multi-platform integration will allow you to offer 3PL services to a more diverse range of clients, as you won't be tied to a single platform.
Keeping up with customer expectations
In an increasingly online world, the needs and expectations of ecommerce customers are continually changing, and your 3PL software system needs to be able to adapt to meet them. On top of managing the order and fulfilment process, you may need to offer multiple shipping options, support international transactions and manage the returns process to be competitive in your market.
Accommodating seasonal fluctuations
For industries that have higher or lower demands throughout the year, an OMS with stock management capabilities is extremely important. By automatically tracking and predicting stock requirements, the system helps you to avoid over-order during quiet periods, and ensure that you're fully stocked when your ecommerce partners are most likely to be busy.
Scaling your output in line with your clients
Ensuring that your retail order management capabilities are scalable means that you can continue to support existing clients as they grow, as well as taking on larger clients that would be unmanageable without a robust order management process. This means opting for an OMS that is scalable and offers multiple integrations, allowing you to retain clients rather than losing them to larger 3PLs in the future.
Red flags to watch out for
With so many order management and fulfilment systems on the market, it can be tough to find the right one to meet all your needs. Here are some of the red flags to look out for when choosing between ecommerce order management systems.
Poor integration with current systems
Whether you're replacing existing retail order management software or setting one up for the first time, you'll need to make sure that any new solutions are able to function alongside your existing systems. For example, if your website is powered by Shopify, choosing an OMS without Shopify integration means you would have to transfer all your products to a different ecommerce platform, which would be very time consuming.
Lack of third-party integration
Order management is just one step of the overall ecommerce process. Make sure your chosen OMS offers third-party integration with invoicing systems, marketplaces and shopping carts so all your ecommerce programs are able to work together smoothly and efficiently. If the ecommerce order management system has API functionality, this will enable you to link more tools and create a flexible solution to suit your needs.
Inability to scale and evolve
Your business is growing and adapting all the time, so you need a retail order management solution that can keep up. Purchase an OMS that isn't scalable and you may find that you've outgrown it in six months or so, leading to more costs and teething problems while you move to another new solution. Look for software that offers a range of upgradable packages, API functionality, and great integration with other ecommerce systems.
Complicated implementation
As well as the up-front cost and any ongoing monthly fees, it's important to consider the hidden financial cost required for integration, setup, maintenance and staff training. It's well worth looking for a vendor that offers a demo, training, implementation assistance and ongoing support to ensure the transition from your old system to the new one goes smoothly.
Single-location server
One of the biggest benefits of ecommerce from a consumer's point of view is that it allows them to shop whenever is convenient. A cloud-based system gives your employees and customers the ability to check on orders at any time without the need to log on to a server that's only accessible from a single location. This provides a smoother internal process and better user experience, encouraging repeat custom and boosting your brand image.
Grow your business with Mintsoft
Investing in a robust retail order management system is a great way to scale your business, improve customer satisfaction and minimise delays in the fulfilment process.
With 150+ courier and shopping platform integrations, Mintsoft's reliable ecommerce order management software will help you to streamline your processes and expand your market with minimal admin. We even offer a free demo, so you can see exactly how we can support your business in its current form, and help it to grow in the future.
If you'd like to learn more, check out our 4-minute video tour or contact a member of the team.