Introduction to third-party logistics
Retailers are looking to third-party logistics (3PL) providers to ease the strain of increased ecommerce demand and customer expectations.
As more consumers expect deliveries within 1–2 days, a quicker turnaround is essential. Where and how the items are picked and packed, how and when they are collected from the distribution centre and delivered to the final customer, as well as how returns are handled, all matter. Every step needs to be cohesive, and this is where 3PL providers can help.
Our comprehensive guide covers everything you need to know about 3PLs, including how they work, the benefits of using a 3PL, and how to choose the right one for your business. Whether you're a small business owner or a supply chain manager, this guide will provide you with the knowledge and tools you need to make informed decisions about your logistics and supply chain management.
Jump to: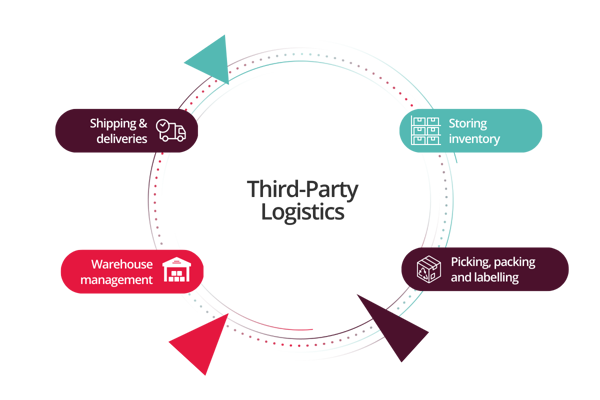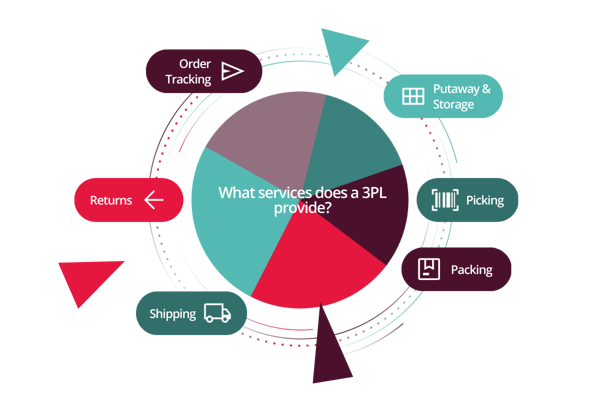 What is a third party logistics provider?
Third-party logistics (3PL) is the process of outsourcing logistic processes to a third-party business to help with ecommerce fulfillment. Doing this eliminates the strain for online retailers, as a 3PL partner will take care of tedious processes such as inventory management, warehouse management, and fulfillment.

3PLs are often cost-effective and help online retailers to save time, allowing them to focus on other areas of their business.
What services does a 3PL provide?
3PLs provide services for a variety of supply chain operations, including:
Order management and fulfillment
Picking, packing and labelling
Shipping and transportation
Express shipping
Order tracking
Quality control
How does third party logistics work?
Online retailers rely on their 3PL partner to take control of operational logistics. Depending on the type of services you choose, the typical 3PL process will include:
Receiving orders:
3PL providers will have robust systems in place for receiving orders from their clients. This could be through an online portal, an electronic data interchange (EDI) system, or by using a 3PL management system.
Storing inventory:
A warehouse or storage facility will be used to keep store inventory. When an order is placed, the 3PL provider will locate the required items in their warehouse and prepare them for shipment.
Picking and packing:
Once the required items have been located, the 3PL provider will pick the items from the warehouse and pack them in a suitable container for shipping. Some providers may offer specialised packaging services.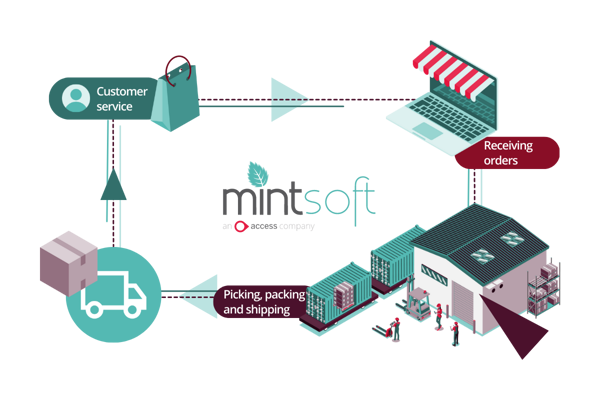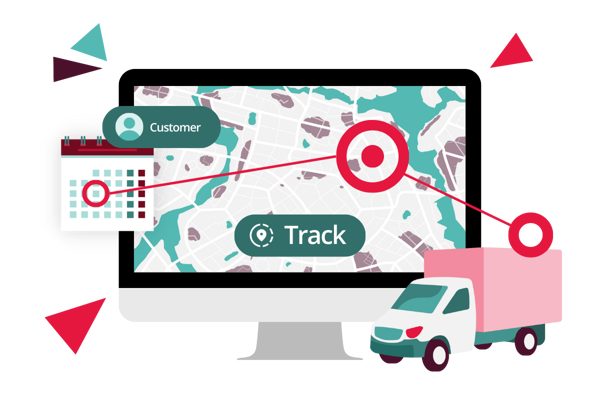 Shipping
The 3PL provider will then arrange for the items to be shipped to the customer, either through their own transportation network or by using a third party carrier.
Tracking and tracing:
To help you keep track of orders, 3PLs will have systems in place so that the provider, the client and the customer can see the status of the order at any given time.
Customer service:
Some providers may offer customer service support, which includes answering questions about orders and dealing with any issues that may arise, as well as seamlessly handling returns.
What is a 3PL management system?
3PL management software, otherwise known as a 3PL warehouse management system, allows 3PLs to gain a complete overview of their warehouse to effectively manage inventory and courier relationships from one centralised platform.
In more granular terms, 3PL software enables companies to automate and streamline their logistics processes, improve communication and collaboration with 3PL partners, and gain greater visibility and control over their supply chain. All of these benefits help 3PLs provide a better service for their ecommerce or retail clients, leading to business growth.
The benefits of partnering with a 3PL
Industry knowledge and expertise
With their breadth of experience dealing with supply chain logistics, 3PLs often have a wealth of industry knowledge in logistics and supply chain management. By having a deep understanding of potential issues and tried-and-tested ways of working, businesses that don't have in-house expertise can benefit significantly.
Cost efficiency
By outsourcing fulfillment and logistics operations to a 3PL provider, companies can often reduce their costs compared to managing logistics in-house. As 3PL providers have economies of scale, they can often negotiate lower rates with carriers and other service providers, which retailers can benefit from.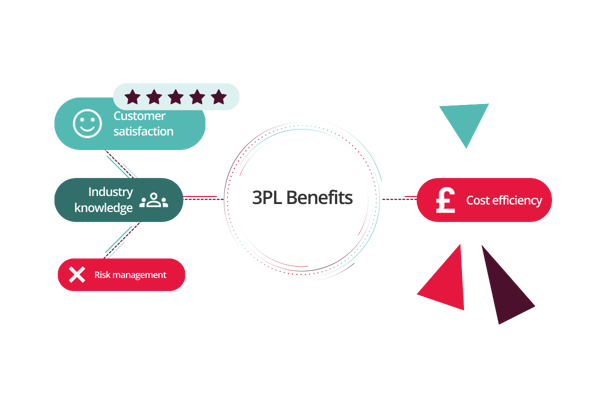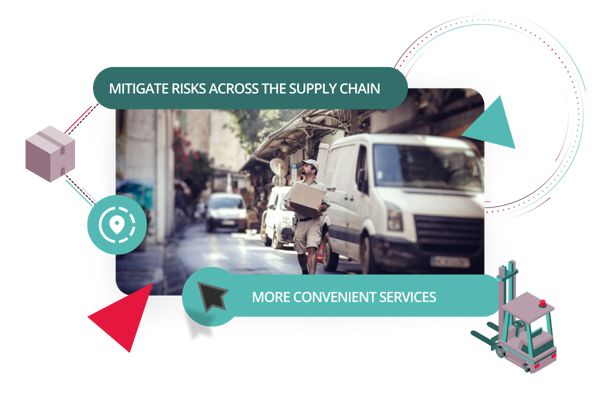 Flexibility
3PLs can quickly ramp up or down their services to meet changing demand, which can be especially useful for businesses with seasonal or irregular shipping needs.
Risk management
Third party logistics providers can help their clients to mitigate a number of risks across the supply chain. This includes:
Diversified transportation with multiple carriers to help with the risk of relying on a single mode of transportation
Robust contingency plans to help companies prepare for disruptions, such as strikes, to minimise the impact on business operations.
Customs and compliance management to assist with customs clearance and reduce the risk of delays or penalties
How do 3PLs help retailers to grow?
In a world where online shoppers choose convenience over brand loyalty, where and how orders are picked and packaged, delivery costs and timings, and ease of returns all matter. In fact, according to Retail Insight Network, 78% of consumers say they value convenience more today than they did before the pandemic.
Nowadays, many 3PL businesses have evolved their offerings by transitioning into tech first entities. Choosing a 3PL which has invested in technology to provide automated processes can have many benefits for online retailers, including enhanced customer experience.
As a result of an increase in orders since the start of the pandemic, Rosi Chapman, founder and owner of Transformulas®, a skin care and beauty brand, recently invested in a tech-enabled third-party logistics service. She commented:
"As people have had more time to focus on themselves during the pandemic, we enhanced our focus on our customer experience. We worked hard to ensure that products delivered quickly, and were beautifully presented, whilst also ensuring the highest level of service was provided to our customers.


To support this shift in our strategy, we invested in software which allowed direct automation links from our website to our stock and accounting systems, as well as to our 3PL warehouse team. By investing in technology, digitising our supply chain process and working closely with our 3PL partner, it was a lot easier to manage demands as our online orders grew. Without this software and the support of our 3PL partner, online growth would have been difficult to manage."
What is fourth party logistics?
Fourth party logistic (4PL) providers are slightly different to the offerings of a 3PL. Rather than helping with just storage, picking, packaging and postage/delivery, a 4PL partner is used to outsource entire logistics operations. This can include support in other areas such as inventory management and planning, business planning, project management and inbound, outbound and reverse logistics management.

What is the difference between 3PL and 4PL?

The main difference between a 3PL and 4PL logistics is the level of involvement they offer. 3PL partners are better suited to small-medium sized businesses, whilst medium-large sized businesses will benefit more from partnering with a 4PL. This is because 4PLs manage and control all activities within the supply chain network, whilst 3PLs focus more specifically on logistics operations.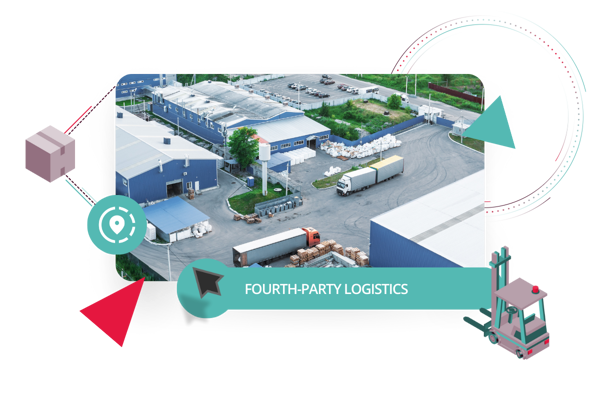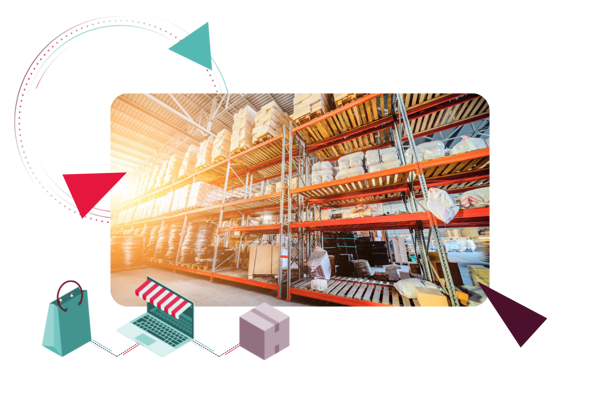 How to choose a 3PL provider
It's important to remember that every ecommerce business is unique, and therefore so are the logistical needs of each. While some online retailers might only need support with fulfillment, others may need support across the whole process. With that in mind, it's important to do research into what services a particular 3PL offers before committing to them.
The steps to partnering with a 3PL provider include:
Identifying the logistics needs of the company: This involves analysing the company's current logistics system and identifying areas where third party logistics services could be beneficial.Consider the type of products, the frequency of shipments, the shipping destinations, and any special handling or storage requirements.
Researching and selecting a provider: This involves researching different 3PL providers, comparing their services and pricing, and selecting a provider that best fits the company's needs. It's important to find out whether their services are scalable to make sure the 3PL can exist as a long-term partner, rather than a short-term quick fix.
Request proposals: Once a list of potential 3PLs has been created, the next step is to get in contact with each one and request proposals that outline their services and costs. Compare the proposals to determine which provider offers the best value for your company.
Negotiating the terms of the contract: This involves discussing the specific logistics services that will be provided, the pricing and payment terms, and any other details of the contract.
3PL frequently asked questions
A third-party logistics (3PL) provider is a company that provides outsourcing services for the purpose of managing and fulfilling orders for its clients. 3PL providers handle a variety of time-consuming supply chain management functions, such as transportation, warehousing, inventory management, packaging, and customer services. These services are designed to help businesses streamline their operations and improve their supply chain efficiency.
3PL providers work with businesses of all sizes, from small startups to large corporations, and serve a variety of industries, including manufacturing, retail, healthcare, and ecommerce. 
3PL fulfillment services can be either inbound, where orders are dropped off by customers, or outbound, where orders are picked up by customers from the warehouse. Goods are often stored in a storage facility where it is easy to find products efficiently.
3PL refers to a company that provides outsourced logistics services, such as transportation, warehousing, and distribution, to clients.
4PLs are companies which act more as a strategic outsourced logistics partner, coordinating and integrating the resources and capabilities of multiple 3PLs, carriers, and other service providers to create a customised supply chain solution for a client.
5PLs are companies which provide comprehensive logistics services, including the design, implementation, and management of end-to-end supply chain solutions. 5PLs may also provide technology and consulting services to help clients improve visibility and control over their supply chain.
If you require a range of logistics services, whether that's transportation, warehousing, and/or fulfillment, a 3PL is probably the best solution. If you need a more comprehensive, end-to-end supply chain solution, a 4PL may be a better option. 
3PLs typically handle the physical handling of goods and provide value-added services, but the client retains control over the logistics process. 4PLs, on the other hand, act as a strategic partner and take on a higher level of responsibility for managing the supply chain.
The biggest potential downside to working with a 3PL is loss of control over the fulfillment process. When a business outsources its logistics to a third party, it may have less visibility and oversight into how goods are being handled and transported. This can make it more difficult to ensure that goods are being handled and delivered according to the business's unique standards.