The

warehouse management software

with

150+ integrations



67+
Online shopping platform integrations
400+
3PL and Fulfilment customers
200+
Online retail customers
The
leading WMS

for warehouses, wholesalers and ecommerce
Whether you are B2B or B2C, Mintsoft provides the warehouse management software that helps you to pick, pack and ship your products across the UK and beyond. 
Our warehouse fulfillment software can be tailored to suit your needs, from simple to more advanced solutions, no matter the scale of your business.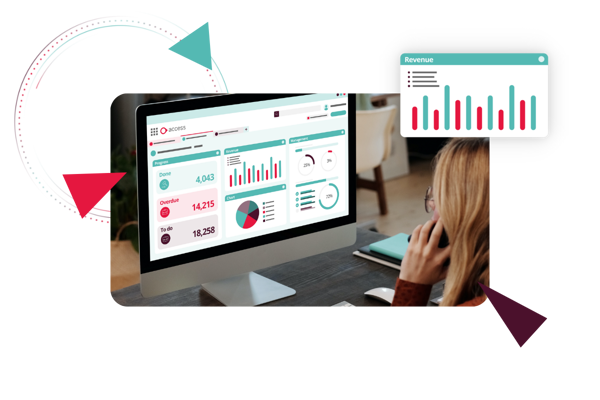 What are the benefits of WMS software?

Automate your warehouse
Automate warehouse tasks and processes and allow warehouse operators to work more efficiently with real-time updates.

Optimise warehouse space
Automated advanced location management allows you to scale your business by managing inventory and optimising your warehouse space.

Advanced warehouse management
Improve your workflow management with features including pallet and carton support, stock counts and cycling.


Real time reporting
Bring confidence to your business with powerful reporting tools, accessible anywhere, anytime with real time updates on orders, inventory, and shipments.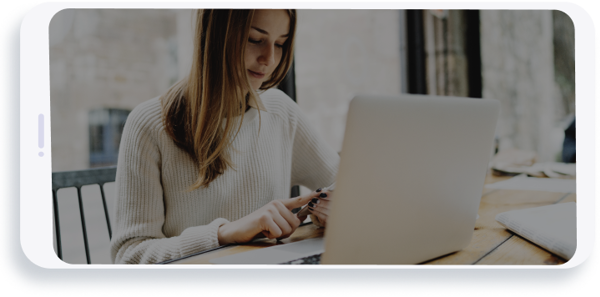 Improve efficiency with
barcoding software
For efficient warehouse management, Mintsoft's mobile scanning app is available to download on the Google Play store, and can be used on a wide range of supported devices.
Multi-type Barcode Picking: Multiple types of batch driven barcode picking are available within the app to suit the types of orders in logical location order for maximum efficiency and 100% accuracy.
Goods-in Processing: Our app makes your goods in process fast, simple and accurate. Book stock easily and receipt and reconcile against pre-existing ASNs or Purchase Orders.
Transfer Stock: Seamlessly move stock from one location to another - either full pallets or individual units.
Location Stock Adjustments: Simply scan a location ID to make quick stock adjustments or all SKUS - up or down. The app is incredibly quick at taking control of mixed variant SKUs held in pick bins after a stock take.
Find out more about our Mobile Barcode Inventory System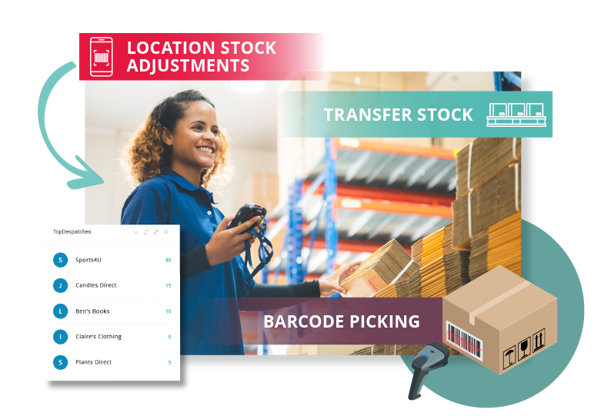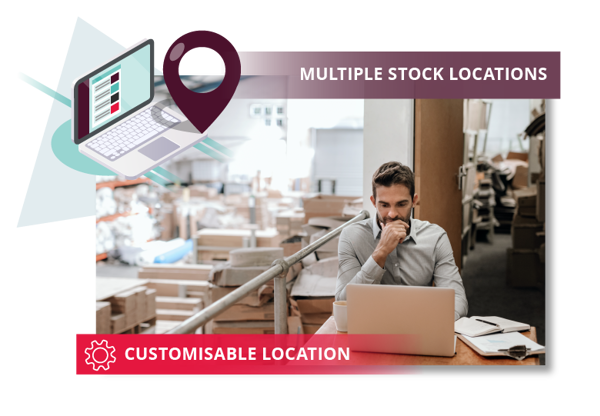 Advanced
multi-location

warehouse management
Take control of stock locations and capacity with our cloud-based warehouse fulfillment software's dedicated location management features supporting one or multiple warehouses: 
Multiple Stock Locations: Assign multiple stock locations to individual product lines for pick management, replenishment and bulk storage. Location zone management helps to split and divide picking tasks efficiently across your warehouse workforce.
Location Labelling: Bulk print location ID barcode labels in any format & size for thermal or laser printers.
Customisable Location: Types Allocate customised location types to your location IDS to suit your setup such as Pick Bins, Standard Pallets, Double Size Pallets. Location types rules can be set up for storage billing and automatic stock allocation.
Location Capacity: Instantly view aisle by aisle capacity on an interactive grid and location type capacity from via a dashboard widget.
Specialist warehouse inventory tracking
Designed to be flexible, our warehouse inventory management software can accommodate specialist inventory types - such as perishable goods.
Best Before Dates: Mintsoft provides automatic FIFO stock allocation management for perishable products with custom expiry date warning notifications.
Take control of batches and lots: Ensure every piece of inventory that flows through your warehouse can be tracked to its group of origin by tracking which batches have been sent to specific customers in case of product recall events.
Serial Numbers: Incorporate individual serial number tracking for high value goods on outbound despatch - such as IMEI numbers for high end mobile phones.
Full Audit Trail: All stock transactions are fully auditable. Every stock transaction is stored with the order ID, customer name and operator that committed the action. These are all easily exportable to excel for reconciling.
Book a 1-1 demo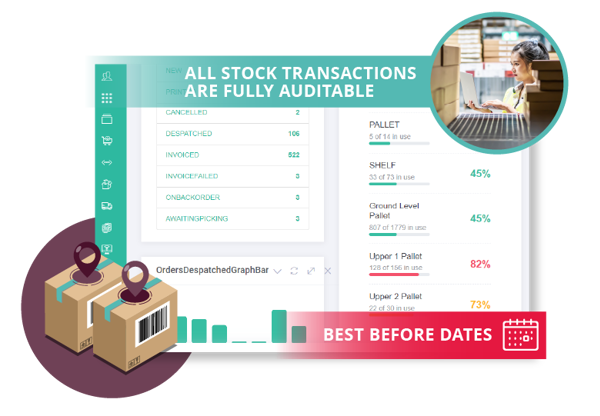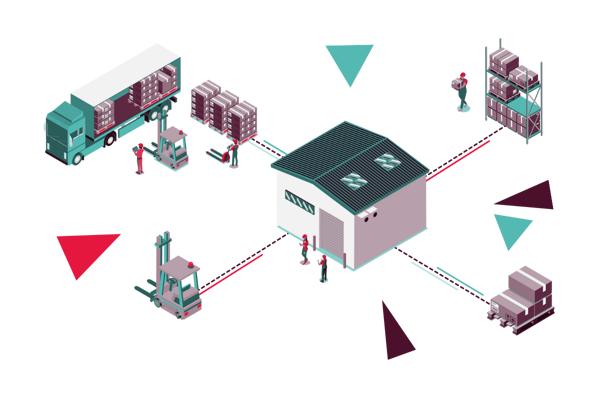 Advanced

warehouse management
Tasking/Workflow Management - Control who and how larger, more complex picks are handled
Pallet & Carton Support - Regulatory compliance with GS2 coding to support picking of pallets and cartons
Work zones & areas - Further grouping of warehouse locations to include zones & areas
Quality Control - Quality checking of inbound and outbound goods to ensure stock moving in and out of warehouse meets required standards
Units of Measure & Volumetric support - Stock capacity management by various units of measure and volume
Advanced Task Automation - Replenishment, receipt & putaway rules, and picking
Key warehouse management software features
Automated Workflow Features
✓ ASN - receive stock against deliveries and assign locations
✓ ASN - partially receive stock against deliveries and assign locations
✓ On Hand / Off Hand stock - set locations as on hand or off hand stock to control the stock levels pushed out to integrated sales channels
✓ Default pick locations - Assign default pick locations to specific products
✓ Location types - e.g ground level pallet, level 2 pallet, level 3 pallet, small pick-bin, large pick-bin
Stock Control Features
✓ Replenishment report - run a report to see which locations need replenishment and where more stock can be found
✓ Forced replen - order status of 'awaiting replen' if no stock available in picking locations
✓ Pick sequence IDs - Assign an ID priority to each location to create most efficient picking route
✓ Stock allocation logic - System will assign stock to orders based on the following in this order 1.Expiry Dates 2. Default pick locations 3. Locations with lowest quantity 4. Oldest stock in location
✓ Ability to override stock allocation logic with Location Type Priority e.g allocate stock from "Pick Bin" locations types first
Tracking & Inventory Features
✓ Warehouse location IDs used to locate stock
✓ Booking inventory in and assigning to locations within warehouse
✓ Transfer inventory from one location ID to another
✓ Warehouse transfer from one site to another
✓ Pallet IDs to locate stock to specific pallets on site
✓ ASN - create advanced shipping notices of inbound stock
What our customers say 
Our previous system was clunky, slow, and laborious when carrying out tasks such as transferring stock, but with Mintsoft tasks like this can be done in a fraction of the time. By automating tasks such as reporting and inventory tracking, we now spend a lot less time on admin and have also reduced the risk of information getting lost, or duplicating workload.
Martyn Newton, Group Operations Director at InterSend
Easily list your products
With our multichannel listings capability you can quickly and easily list and sell your products on the biggest online marketplaces, as well as bulk update your listings from a single source of truth.
Find out about our Multichannel Listing Software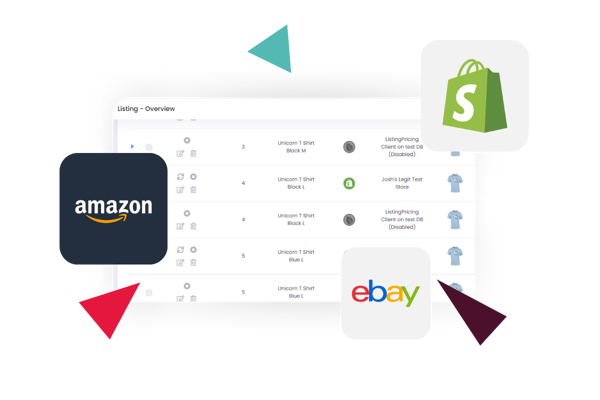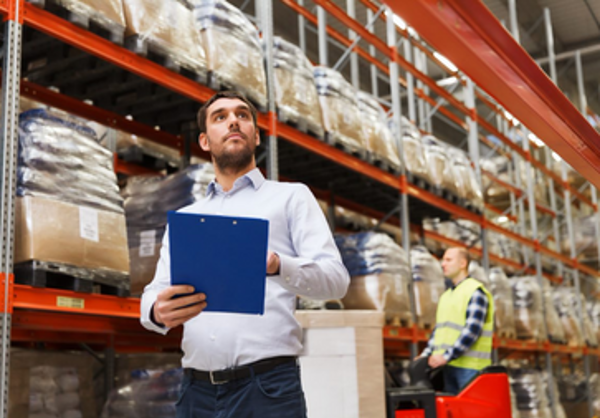 It is important to note that warehouse inventory management systems are not just for warehouses. With a WMS solution, any company can manage its inventory and distribution processes more effectively - not just 3PL warehouse managers. For example, retailers and wholesalers alike can use a WMS to better manage their stock levels, track inventory movements, and generate reports on product performance. You can be a B2B warehouse operator with multiple warehouses to consider or a B2C ecommerce brand with listings on multiple marketplaces such as eBay, Amazon, and Etsy. Either way, a warehouse inventory management software can help you speed up your business processes as well as reduce errors.
The benefits of warehouse management software include improved inventory accuracy, improved customer service levels, reduced inventory costs, increased supply chain management visibility, reduced labour, and admin costs, increased speed of service, sales forecasting insight, and more. As a warehouse manager (or a brand that needs to employ one) this will be music to your ears - especially if you are often away, working from the head office.
A WMS is designed to automate, optimise and improve warehouse operations, whereas Enterprise Resource Planning (ERP) is the automation of processes across all areas of a business, from human resources to procurement. 
WMS can be used for both small and large warehouses but comes into its own with floors of over 20,000 square feet and the demands placed upon start to get complex. At this level and above it is sometimes referred to as an ERP system or enterprise resource planning.
We have 4 tiers of plans, depending on your business size and needs. Our pricing plans also offer custom pricing packages if your requirements exceed the features offered by the maximum tier. 
We have 4 tiers of plans, depending on your business size, and all of our pricing plans for multi-channel retailers can be found here. If your requirements exceed the features offered by the maximum tier, we offer custom pricing packages to suit your business needs as well. 
Mintsoft is a cloud-based system, so there are no physical requirements, but we can integrate with the physical kit you have, like your scanners and printers. Getting set up with us is as simple as signing an agreement, and then letting us guide you through the rapid onboarding process.
Related Mintsoft blog posts