67+
Online shopping platform integrations
400+
3PL and Fulfilment customers
200+
Online retail customers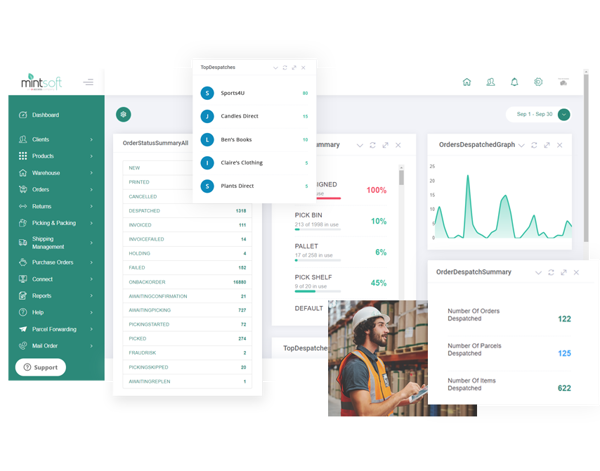 We've got you covered
Active support for 3PL warehouse operations
As a third party logistics provider responsible for looking after your customers' goods, you need a system that accommodates multiple stock accounts and makes it easy for you to support your various customers with the efficient and responsive service levels they expect.
Mintsoft gives you and your customers real-time visibility and traceability of inventory. Bring confidence to your business with powerful reporting tools -  all of which are accessible anywhere, any time. Gain a complete overview of your warehouse, inventory and courier relationships from one easy to use platform, with features that make a difference: 
Real-time Client Access
Automated Billing & Accounting
Customisable Brand Management
Centralised Client Management
Find out more about the specific features of 3PL management software offers.
Find out more about 3PL Management software
What our

customers

say 

Our previous system was clunky, slow, and laborious when carrying out tasks such as transferring stock, but with Mintsoft tasks like this can be done in a fraction of the time. By automating tasks such as reporting and inventory tracking, we now spend a lot less time on admin and have also reduced the risk of information getting lost, or duplicating workload.

Martyn Newton, Group Operations Director at InterSend