The

inventory management system

with 150+

integrations



67+
Online shopping platform integrations
400+
3PL and Fulfilment customers
200+
Online retail customers
What are the benefits of an inventory management system?

Simplify your inventory processes
Set rules to automate what happens to orders during packing based on triggers like delivery option selected, value and weight.

Data-driven insights
Our stock management system automatically monitors stock levels and sales data; helping automate the process of adding new items to inventory, tracking sales, and updating stock levels.

Reduce despatch time
Automatically route orders to specific warehouses based on sales channels, stock levels or destination addresses.

Efficient control and visibility
Our automated warehouse management software allows you to trace and oversee your inventory from any channel and in any warehouse.


Know your stock
Stock control software gives you automated insights to product information at your fingertips, so you know the best place to store it, and how to handle certain stock.


100% pick accuracy
With reduced time spent on manual tasks and better warehouse knowledge, you'll have the confidence your staff are picking the right product first time.

Cut time spent on managing
inventory 
With stock management software, you'll easily move stock from location to location with simple scanning steps for replenishment or putaway: 
From location

 

Product 

 

Quantity 

 

New location

 
You can also adjust stock on-the-fly, directly in location and see a clear audit trail of all historic stock movements.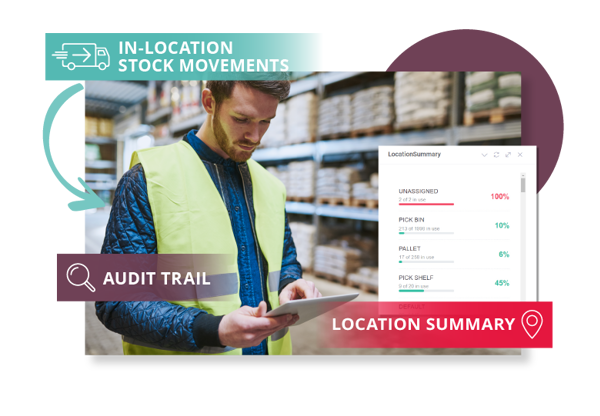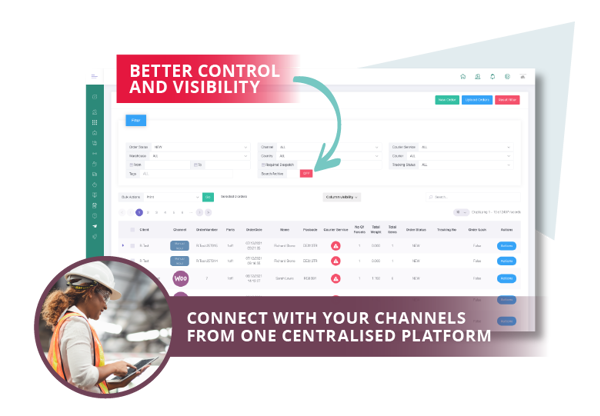 Never sell out of products
again
Stock outages are a business owner's worst nightmare. Not only do they lead to a loss in sales, but you'll see lower customer satisfaction rates and loyalty levels. With our inventory management software, you'll have better control and visibility of your stock levels across all your channels, in one place. 
Mintsoft stock management system automatically keeps track of your inventory at all times, no matter where it is. By connecting with all of your sales and e-commerce channels from one centralised platform, you'll clearly be able to see when you're running low on certain products. 
Simplified product

management
Whether you prefer to use paper or our mobile app, the Mintsoft stock management software UK allows you to create and schedule batches easily and quickly for straight-forward picking. 
The optional Batch Scheduler Module saves a huge amount of admin time by automatically batching up orders based on predefined rules and templates, making products available for picking instantly. Virtually bundle products to be sold together for marketing promotions, without typing up stock in pre-packed kits. 
Orders can be batched up at set intervals all throughout the day - or just once per day depending on your preference.
Find out more about our Mobile Scanning App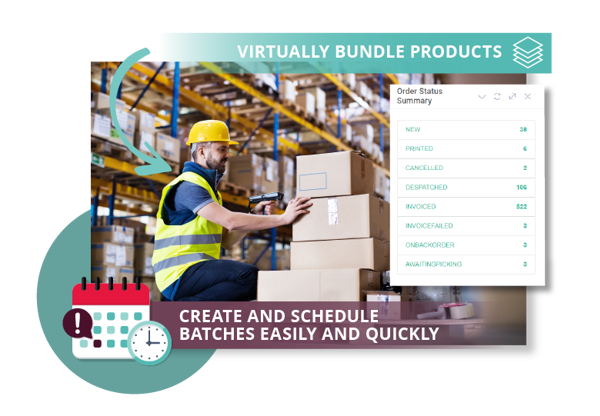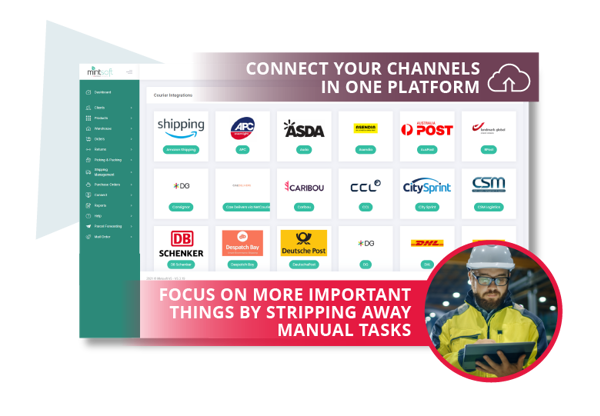 Connect with you current inventory management
systems 
Our pre-built API integrations allow you to automate manual tasks by integrating with the most popular inventory management systems direct from your Mintsoft dashboard. Allowing you to spend more time focusing on the important stuff.
Explore our inventory management system integrations
100% Pick Accuracy
Relax with the knowledge that your warehouse staff are picking items right the first time. With voice assisted picking commands, product images and user friendly errors, it's virtually impossible to pick the wrong items. 
Multiple Picking Models
Mintsoft's inventory management system provides various picking models to suit different types of clients and orders. Bulk batch picking, multi-tote and single tote options can be selected and used with ease.
Assign to User or Open Pool
Order picks can be batched up and assigned by warehouse managers to specific pickers. Alternatively they can be assigned to an open pool and left for the first picker to grab and assign to themselves for hassle-free stock management.
Additional features pricing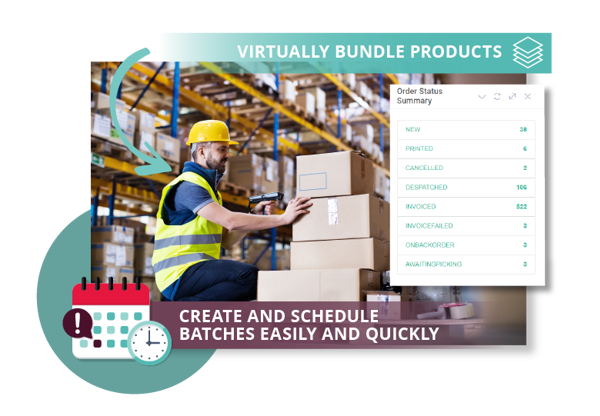 Key inventory management software features
Product management features
✓ Product warehouse allocations - if stock is available across multiple warehouses you can assign a priority against each warehouse for stock allocation ✓ Export products to CSV ✓ Low stock alerts - set low stock alerts against each product to get notified when stock levels reach a set amount ✓ Upload products in bulk ✓ Import product information from supported online sales channels
Barcode & data features
✓ Master carton barcodes - scan a carton barcode once to book a larger quantity of stock ✓ Stock flow data report - view transactions relating to a product in, out or stock allocation ✓ Audit trail of product attributes - changes made to main product attributes are logged and displayed under product history tab ✓ Product barcode generation / printing ✓ Dropship products - set products up as dropship products to filter off of orders and automatically send an email to supplier for fulfilling of order
Picking and packing features
✓ Alternate SKU mapping across channels ✓ Add packaging and packing instructions to products ✓ Add linked items or additional products to specific products ✓ Subscription products - create subscription rules for products with length and frequency of the subscription ✓ Product Bundles - create 1 SKU formed of multiple other SKUs (when bundle SKU is ordered it will deduct relevant qty of component SKUs from stock levels
What our

customers

say 

We are particularly impressed with the barcode scanning capabilities offered by Mintsoft which ensures every single order is accurate and has removed all issues relating to inventory management. 

Mintsoft's barcode scanning mobile app makes it virtually impossible to pick the wrong items. We also like that the app means you don't need to use any branded equipment – you can use the device of your choice which is really handy.
Ben Chidzoy, Co-founder of Fulfillable.
Learn more about Inventory Management Software
Take a look at our guide to inventory management systems in 2022. We cover different types of inventory management, how an inventory management system works, common features and benefits, and how to pick the best inventory management system for your business.
Learn about inventory management systems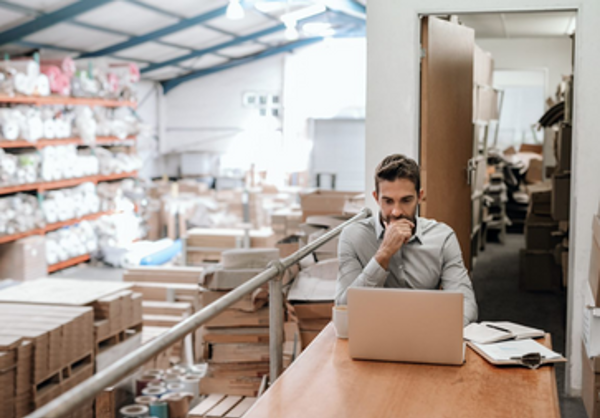 Inventory management software FAQs
At some point every business handles stock, from large retailers to small independent businesses. An inventory management software helps keep products fully organised from entry to exit of the business, increasing accuracy and preventing human error, as well as potential loss of revenue. A modern stock control software is the key factor that keeps businesses from being burdened with traditional and outdated inventory management.  
An inventory management system is a specialist software that tracks the stock coming in and out of the door via customer purchases, as well as how much stock remains with the business and how it's organised. The software also analyses the data taken from the stock management system and gives recommendations on how to streamline operations further. Warehouse managers and staff will have a real-time picture of the current inventory, as well as what will happen in the future.     
There are many benefits of inventory management software, however your business will primarily see increased efficiency, reduced costs savings and a better customer experience. By streamlining and automating stock control processes with inventory software, there will be better visibility of warehouse organisation, less stock outages and increased productivity from staff. Ultimately getting stock out to customers faster, with less errors
Latest Mintsoft

Blog Posts