Even the greatest product in the world isn't going to sell well if nobody can find it. So that raises the question, where are the best places to sell online to ensure your products get seen and, crucially, bought?
There are many ecommerce marketplaces available for UK sellers and which one is right for your business might depend on considerations such as your budget, profit margins and niche.
What is an online marketplace?
An online marketplace is a digital market or fair that connects buyers and sellers.
Ecommerce businesses can sell their products via online marketplaces without being restricted by geographic location or the need for a physical shop. Sellers use marketplaces to browse for items being offered by a variety of businesses.
The benefits of selling your products online
For UK businesses, selling online can open up a whole world of possibilities. In 2023, an estimated 2.64 billion people shop online and as an ecommerce seller, you can access those potential customers.
Compared to brick-and-mortar traditional selling, ecommerce offers some big benefits:
Large audience numbers
Access to customers you couldn't get in front of otherwise
Marketplaces provide an existing audience
Ability to find buyers for niche products
No need for a physical shop
Cost saving from reduced overheads
International selling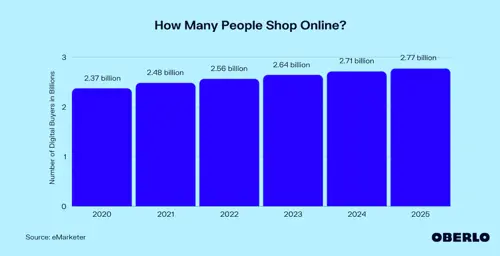 https://www.oberlo.co.uk/statistics/how-many-people-shop-online
The best places to sell your products online
Your own ecommerce website
Regardless of the size of your businesses, there are many benefits offered by having your own online store to sell products on and control your brand image.
If you're looking to launch your own website, it's important to choose a build method that works for your time and budget. For example, if money is no object, you could engage a company to create your website for you but if you're working to a smaller budget or aren't ready to commit to a big project, a self-build solution like a Shopify online store might be more suitable.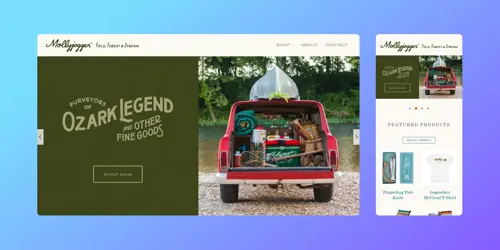 Credit: Shopify
If you're starting from scratch with a website, choosing a builder that is specifically designed for selling products. They come with built-in integrations for payments, shipping and more that make listing and selling easier.
Pros of creating your own website
Control over listings and products
Your website is your digital storefront, where you can display your items however you like.
Unlike when selling on a shared marketplace, there aren't any terms and conditions to follow when listing on your own website. You also don't have restrictions on what you can include, what you can't and how that information gets displayed.
Control over brand image
Brand image and personality is a big part of the buying journey. You may be familiar with the phrase "people buy from people" and it's true! Having your own website gives you the freedom to express your brand image and personality in whatever way you like. Show your customers who you are.
No listings costs
Online marketplaces often base pricing on either the number of products you list or the number of products you sell, which can make it a bit tricky when it comes to estimating your outgoings. Most self-serve website builders and hosting companies have standard monthly fees which makes it easier to track your spend.
Cons of creating your own website
Website maintenance
If you're selling on an online marketplace, all maintenance and website updates are handled by the platform provider, meaning all you have to worry about is running your business. With your own website, you'll need to take into account maintenance, updates and any upgrades you might want to add over time. With the freedom to create whatever works for you, comes the responsibility of upkeep.
It's harder to be found
With your own website, you're on your own when it comes to search engine optimisation (SEO). While flocks of people head to online marketplaces such as eBay to look for products, people need to know your website exists before you'll see a good amount of traffic. And of course, if people can't find your website, they can't buy from you either.
Supporting your website with social media activity is a great way to drive traffic and increase your reach.
It can be costly
You've created your website, paying your fees, maintaining the changes... it all adds up. Add considerations like SEO and advertising costs to get your website in front of your audience and your outgoings could become considerable.
Amazon
Amazon is front of mind when it comes to buying products online – and it should be for selling them too. The digital footfall is huge, meaning you have plenty of people to showcase your wares to.
Amazon isn't just for sellers either, it's a great place for creators too. Amazon Handmade is specially designed to showcase small independent businesses with handcrafted products.
Pros of selling on Amazon
There's a ready-made audience
Amazon is vastly popular – in the US alone there are 195 million unique visitors monthly. This means there are millions of people available to potentially see your products. Realistically, not all of them are going to, but no matter who your target audience is, they'll be amongst the people browsing Amazon daily. This removes the need to drive traffic to your website.
Profit margins
For small UK business, Amazon offers the opportunity to advertise products on a scale otherwise unachievable. The high number of visitors using Amazon's online marketplace means more chances to sell and get noticed by new customers.
22% off SMBs selling through Amazon make more than $10,000 per month off the platform alone.
You can Fulfil with Amazon
Fulfilled by Amazon (FBA) is a unique offering that allows you to ship your products to Amazon warehouses to be picked, packed and shipped directly when someone purchases your item. This reduces the space you require to store stock, allows you to offer faster delivery and sell across Europe without handling any of the physical challenges yourself.
Cons of selling on Amazon
It's very competitive
It's not only Amazon's visitor numbers that are high – their seller numbers are too, with nearly 2 million small and medium businesses using the platform. Your chances of standing out can be increased by selling a niche product, creating optimised listings and utilising Amazon ads, amongst other marketing tricks.
Restricted brand control
As Amazon is product-focussed, brand exposure opportunities can be limited in comparison to some smaller online marketplaces. If your business is very brand focussed, you could find this restrictive as consumers primarily use Amazon for product selection, reviews and low prices.
Selling fees
As with most marketplaces, Amazon charges a fee for selling on their platform. Depending on your selling plan, fees are either a set monthly amount or based on per unit sold. Before setting up on Amazon, it's a good idea to explore their options and choose the best-selling plan for you depending on your margins and forecasted sales. Other costs to consider are referral fees, fulfilment fees and more.
Onbuy
As a British marketplace, Onbuy is a great choice for UK ecommerce businesses. Claiming to be the fastest growing marketplace in the world, their aim is to put sellers and buyers first.
An up-and-coming marketplace, Onbuy offers the benefit of an ever-expanding audience, without the competition that comes with larger online selling platforms.
Pros of selling with Onbuy
It's a growing platform
Since it launched in 2016, Onbuy has grown immensely and now boasts more than 7 million buyers. The increasing number of buyers give you a better chance of getting your items seen and bought – and if it continues on the same trajectory, the number of visitors will only get bigger.
Onbuy don't compete with sellers
Unlike some similar platforms, Onbuy doesn't sell any of its own products, only acting as conduit between sellers and buyers. This means you're never in competition with the online marketplace you're selling on, giving you a fair chance when it comes to listings.
It's UK based
Onbuy was founded and developed in Dorset, giving it a unique understanding of the challenges faced by UK ecommerce businesses. All support is handled by a dedicated UK team and there's also the option to upgrade to Relationship Managers if you require additional support.
Cons of selling with Onbuy
A smaller audience
While Onbuy is growing and is certainly on its way to having a huge audience, it's small in comparison to a larger marketplace like Amazon – especially when it comes to selling internationally. As Onbuy uses a 30-day rolling contract, you can always change your mind if it isn't working for you.
Fees are pay-monthly only
Onbuy offer two choices when it comes to selling accounts: standard or partner. There are no listing or transaction fees, making it easier to manage your monthly outgoings. However, this can cause issues for micro businesses starting out as you have a monthly cost regardless of the amount of products you list or sell.
Discover whether you should sell on OnBuy in our detailed guide.
Not On The High Street (NOTHS)
Not On The High Street is a popular online marketplace for creators and small businesses specialising in gifts. If you create items that can be personalised, NOTHS is set up to accommodate this.
NOTHS has a personal feel, it was started by founder Holly Tucker after overcoming some personal struggles. Created to be an online creative fair, it has grown to be a multimillion-pound business.
We have a whole blog on NOTHS if you want to delve in further.
Pros of selling on Not On The High Street
Extra support for sellers
NOTHS offers support above and beyond the average marketplace. There are webinars and events to help you maximise your sales, an inspiration and trend hub and other resources and toolkits to support your selling journey.
It's a curated marketplace
NOTHS is a curated marketplace, made up of small businesses selected by their team. If you're approved, they think your business is suitable for their audience which means you'll have a good chance of success on their site. You also know you're surrounded by other high-quality businesses that attract plenty of buyers to the platform.
A large, ready-made audience
There are over 38 million unique visitors each year to the NOTHS website. The combination of high visitor numbers and limited, selected sellers to compete with, gives you a greater chance of engaging with higher audience numbers.
Cons of selling on Not On The High Street
It's a curated marketplace
Yes, this was also in the pros section. NOTHS is pretty selective about who can join their site and businesses have to go through an application process to sell with them. You'll need to be UK-based and provide product photography alongside your application. If your application is rejected, you can reapply but only with new products or photography.
Joining and transaction fees
There are no listing fees for NOTHS partners. Instead, there's a one-off joining fee of £199+VAT plus 25%+VAT commission on everything you sell. Therefore, NOTHS is most suitable for businesses able to make the financial commitment and those selling high margin products.
Limited selling categories
NOTHS is a gift-specific online marketplace, so is only available for selling products that fall into relevant categories such as homeware, accessories and beauty. Because of this speciality, sellers also have to adhere to guidelines relating to the look and feel of seller storefronts.
eBay
eBay is basically the father of online marketplaces, launching all the way back in 1995. Almost everything can be sold and bought on eBay, from vehicles and furniture to collectibles and electronics. No matter your product, there's likely an audience for it on eBay.
Pros of selling on eBay
You can sell almost anything
You can sell items across a whole host of categories. Not only that, but items don't need to be new so eBay is a great platform for vintage and second-hand sellers who aren't making their own products.
According to eBay, a car is sold in the UK every single second, a cosmetic is sold every 3 seconds and a video game is purchased every 4 seconds. Whatever you sell, you can probably sell it on eBay.
Seller protection
There are different ways of selling on eBay, including different types of shops and they each come with different types of protection. Sellers can report buyers for abusing the system, are protected against fraudulent returns and can escalate situations where buyers have failed to pay.
A supportive community
Running a small business can feel lonely but eBay's community features allow you to connect with others via events, forums and more. There's also a seller centre providing learning resources and 24/7 customer support.
Cons of selling on eBay
Lots of competition
The freedom provided by eBay's wide category range can be a double-edged sword. There's potentially lots of competition for your product-related keywords, making it harder to get to the top of the listings. Significant SEO work can be required when listings high-competition items.
Policy restrictions
eBay's seller protection policies come with restrictions, such as limited returns options you can offer your customers. While these policies are put in place to protect sellers from fraudulent claims, it does limit your freedom when it comes to creating your own policies.
Fees
eBay hosts many different sellers – businesses, individuals, B2B, B2C and everything in-between. To accommodate a variety of different needs, the fee structure can get a little complicated. Some of the fees you could be required to pay are listing fees, a final value fee and a monthly shop subscription.
Making selling in multiple places easier
There are many options available for ecommerce businesses in the UK and as you've read, online marketplaces offer a lot of benefits. If a few of those highlighted have piqued your interest, you may now have another concern: "where will I find the time to sell on all the marketplaces I want to?". An order management software (OMS) can help with this.
Some order management systems allow you to list your products in multiple places (known as multichannel selling) through one single portal. For example, Mintsoft's Multichannel Listings feature enables you to manage your orders from multiple online marketplaces and ecommerce sites directly from the Mintsoft application, giving you all the benefits of your chosen selling sites without the admin and time restrictions involved.
"Listings has made such a difference to my small business. It used to take me a whole day to upload my products to different places but now it takes me 20 minutes! I have so much more time to spend on developing my business and creating new products." - Mintsoft customer 
If you're interested in learning more about selling on multiple channels via Mintsoft, book a personalised demo with one of our product experts today.