What to expect
For many businesses the act of capturing, tracking, and fulfilling orders across two or more sales channels is tricky. To make matters worse, 55% of retailers are still using manual processes at some point in their logistics process, leading to order inaccuracies and confusion.
As a result, modern businesses are looking to ecommerce automation to get ahead of the competition - but what exactly is ecommerce automation and is it essential for businesses looking to scale their operations?
In this guide, we'll be covering everything you need to know about ecommerce automation, as well as 6 automation strategies to follow in 2023 and beyond: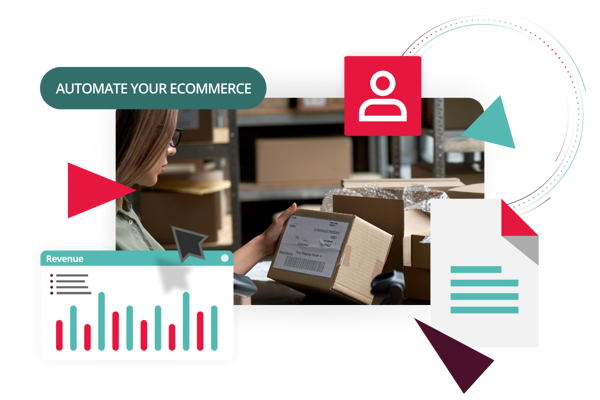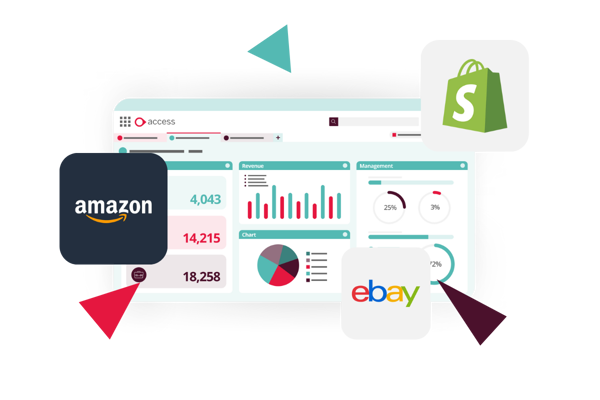 Ecommerce automation involves using software and tools to complete time-consuming tasks that usually require human input. The ultimate goal of ecommerce automation is to streamline processes throughout the entirety of the fulfillment process, saving time and money for a business. An example of this includes automatically marking products as 'low in stock' or 'out of stock' as soon as products sell out, improving the customer experience and reducing manual labour.
Why is ecommerce automation important?
Online shopping has exploded with an estimated strong growth of 20.5% in 2021, pushing E-commerce sales to £185.22 billion. This rapid growth has forced fulfillment operations into overdrive.
From click to customer stands a multitude of challenges, these challenges include:
Aligning inventory and orders across multiple channels
Complex shipping schedules and order profiles
Tracking fulfillment
Back-office reporting and analytics
To ensure an optimal experience, multi-channel and online retailers must fulfill an ever-increasing order volume quickly, cost-effectively, and seamlessly. This is no easy task at a time when supply chains are stretched and consumer expectations are heightened. The increase in consumer demand has been met by increasing new entrants to the ecommerce landscape (including those that have had to move from bricks-and-mortar). With each offering faster services, free delivery, and more to compete, it is forcing a rise in customer expectations.
These issues can quickly overwhelm all but the most sophisticated operations. As a result, many retailers are looking to automate ecommerce to help streamline operations, attract new customers, and scale business growth. 
This guide will now explore six actionable strategies to streamline your ecommerce order  fulfillment process, giving you more time to focus on other business functions.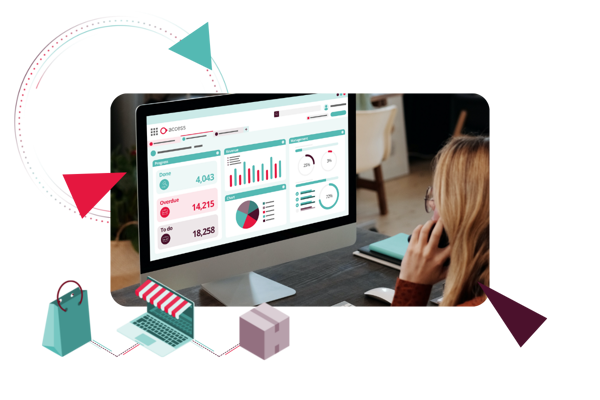 Strategy #1.

Automate the ecommerce order  process

Today, order management requires a multi-dimensional system that touches nearly every facet of how your business operates, including; customers, sales channels, product information, inventory levels and location, suppliers for purchasing and receiving, customer service and order printing, packing, processing, and shipping.
As your business grows to hundreds or thousands of line items, automation becomes a necessity. Having an automated order management process in place will reduce errors and help deliver a more responsive and consistent service. Order management software allows you to take control of the full dispatch process from picking, packing, to shipping orders. 
In essence, modern order management systems treat the complete supply chain as an interconnected ecosystem, allowing you to automate internal processes from order through to fulfillment. When implemented well, it delivers major time, efficiency, and money-saving returns on your investment.
Ecommerce order automation benefits:

Improve order accuracy

Fulfilling orders without order management software opens up the risk of human error. The basic feature of an order management system is to reduce manual and repetitive work.


Optimise processes

An order management system offers automation wherever it is possible, from calculating costs to storing customer information.

Strategy #2.

Seamlessly manage inventory across all ecommerce channels

The past 18 months has been a period of extremes. Some companies have seen record ecommerce growth, while order volume has plummeted or fluctuated wildly for others. With volatile demand likely for the foreseeable future, ecommerce fulfillment operations must be ready to change course on short notice - ramping up or down as volume dictates.
Managing inventory across different channels is the third-largest challenge for supply chain executives. Keeping track of the volume, velocity, and fulfillment of omnichannel orders will bottleneck your business if you haven't set the right foundations for scalable growth. 
But accurate forecasting, as well as having a clear picture of your inventory management, means you can better plan for what you'll need to order in from suppliers more frequently so you can continue to fulfil your customer orders.
Fulfilment operations must also be prepared for high return volumes. To keep customers coming back, returns, exchanges, and refunds must be fast and hassle-free.
Inventory management automation benefits

Determine high-demand products

Ecommerce management software can help you adjust to accommodate peaks and valleys in order volumes.


Automatically sync stock levels

An OMS will simplify your inventory tracking process. This will mean a more efficient use of resources, and the ability to spot problems and opportunities.

Strategy #3.

Increase shopping and systems integrations

Today, retailers manage a growing number of sales channels - web stores, mobile apps, online marketplaces, and more. But providing seamless online customer experiences across these channels can be challenging. 
What's more, each channel can also have different fulfillment requirements. When you manage all these different online stores or offer your products through marketplaces like Amazon, it can be difficult to keep track of all incoming orders and stock levels for each online store. 
Whether you sell on Etsy, Amazon, your website, or WooCommerce, you can consolidate all your channels into a centralised place to keep an eye on what matters most - fulfilling customer online orders on time. In addition, by connecting online stores and marketplaces into one account you can capture new audiences and sell wherever you are. 
You can also manage other back-office functions like accounting and invoicing without ever leaving the platform. You'll be able to gain insight on accounts payable and receivable, as well as automate invoice and purchase order creation. With no manual data entry required.
Mintsoft offers over 150+ integrations including shopping cart and marketplace integrations, such as WooCommerce, Shopify, Magento, and Amazon.
Multichannel selling automation benefits

Manage multiple sales channels seamlessly

A fully integrated order management system ensures you're equipped to handle a wide range of sales channels, seamlessly.


Easily switch between integrations

Managing all your systems in one place means you can easily switch between different integrations to process orders. 


Access real-time data

This means your warehouse management software, inventory software, and shipping systems can communicate data in real-time.

Strategy #4.

Streamline logistics and shipping

In years gone by, most retailers could get by partnering with one shipping carrier to deliver their products. Today, however, carrier services and customer expectations are rapidly changing. The shorter the delivery times, the better the consumer response. 
Strategies such as "Express delivery" or "Next day delivery" are all prominent crowd pullers and this puts pressure on your logistics teams- particularly during super busy times like peak seasons. We're even seeing a rise in specialist urban micro fulfillment 3PL's that are providing sort after same-day delivery options.
At the same time, we're continuing to see parcel costs rising. Major parcel carriers once again instituted a sizeable General Rate Increase for 2021 and continue to impose substantial peak season surcharges.
Leveraging different options as part of a multi-carrier shipping strategy is critical to maintaining competitive advantage and providing a good experience. Having access to multiple shipping providers to choose from means you can offer the fastest shipping times and best customer experience for every order, all while keeping rates low.
Shipping and logistics automation benefits:

Pick, pack, and ship faster

Streamline the picking and packing process by automating stock levels in as little time as possible.


Leverage a multi-carrier strategy

If you haven't already, leverage a multi-carrier strategy to get products to customers quickly and accurately. Connecting with multiple carriers is one of the best ways to increase both conversion rate and customer satisfaction. 

Strategy #5.

Build supply chain resilience

The recent HGV driver and petrol shortage have highlighted how vulnerable some supply chains are to spikes in demand. That's why many retailers are now making plans beyond the immediate operational challenges to make supply chains more resilient and agile. 
A recent study from Deloitte revealed that nine in 10 companies are making significant investments to improve their supply chain resilience, with 95% indicating stronger supply chains as "important" or "very important." Not only does a strong supply chain make E-commerce brands more nimble, but it also gives them the power to scale and launch new go-to-market approaches for cross-border E-commerce. 
Dropshipping is a great way to build supply chain resilience while keeping your overheads low. But successful dropshipping also relies on choosing the right order management platform. Order management systems provide a variety of features, such as catalogue management, which makes it easy to keep track of extensive inventories, even if you don't stock the products yourself. 
If supply chains aren't an issue, but shortage of floorspace is a factor, consider how automation can help. From an order management perspective, you can use data to ensure you stock the right inventory and anticipate peaks in demand. 
Supply chain automation benefits:
Strategy #6.

Exceed customer expectations

Consumers are demanding; and they want to stay informed about every step. In response, retailers are increasingly seeking to better manage inventory, handle order velocity, and meet fulfilment requirements. That's why things like live order tracking for customers and dynamic pricing to quickly compete with competitors can support you in managing expectations.
In fact, some 97% of customers expect to have insight into the status of their order—including its current location and estimated delivery date. 
With an order management system, you can keep all the customer and order information in one place. This way, you can keep your customers fully informed through a complete view across multiple sales channels. Additionally, the shipping delivery, return of the order, or even cancellation details can be easily passed across.
In addition to tracking the entire order process internally, with the right OMS, you can also provide tracking information directly to your customers. By integrating your online stores with your chosen couriers, automatic updates, tracking numbers and despatch status are provided instantaneously, so your customers will always be kept in the loop about their order.
Customer service automation benefits

Speed order cycle times

With a robust Order Management System, efficient processes and automated fulfillment solutions can save precious hours and get orders out the door much faster.


Protect your brand identity

Many order management systems allow branding.

Automation helps scale and streamline your ecommerce business
Automating ecommerce may seem a little scary at first. But a small investment in cloud-based software with the right automation tools and integrations can make a lot of difference for your business. 
Through automation, you can save time and money while offering a best-in-class shopping experience across multiple marketplaces and channels. Automation simplifies processes, reduces the risk of human error, and frees you to operate with fewer internal resources, which makes growth and scalability easier.